Restoration & Repair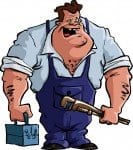 When it is time to finally restore your baby to it's showroom new luster, sales or to customize it in your own unique way, it is important to be sure that it is done right the first time. Don't trust your valued vehicle to some brute like this fella! He'll scratch your paint, dent your fender, and drop cigar ashes in your interior! From mechanical work to full restorations, customizing, or rebuilding of parts, if you need professional assistance – here are some sources that can help you out!
Give 'em a call! You'll be glad that you did! Tell 'em Long Island Classic Cars.com sent 'ya!!
[This page is a place for businesses to advertise their repair, restoration, and customizing services. If you can assist people with repairing, customizing or restoring their cars…. advertise your business here!]
---
---
---
---