Looking to buy or sell a classic car, truck or motorcycle? You've come to the right place...
Important Note! The "Place Ad" button below is used for both automated online payment transactions and manual payments.
TO PAY BY CHECK:
Please complete the full "Place Ad" process below, including image upload, but do not pay online! When you reach the Credit Card checkout payment page then just CLICK HERE and print the direct payment form shown, and mail it back to us with your check.

Once we have your payment we will activate the ads you have entered using the full image upload process below.
---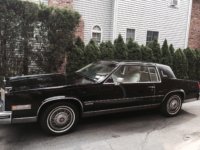 I am the original owner of a 1982 Eldorado which I am looking to sell. Its in good condition, has approx. 40,000 miles, has Rolls Royce Grille, it's Black with Buttery White Leather interior, and tires like new. Car well maintained - road ready. Contact me if you are a solid buyer.....516-437-4868 or email....adams4838@gmail.com
04/16/2017
Total views: 95
Price: $ 12,500.00
1987 GRAY REGAL - 2 DOOR, AIR CONDITIONING, AM/FM RADIO, POWER STEARING, POWER WINDOWS, DISC BRAKES, AUTOMATIC TRANSMISSION, 8 CYLINDER, 4 BARREL CARBURATOR, 226,000 MILES, ORIGINAL OWNER. PURCHASED DECEMBER 1986, ALL ORIGINAL PARTS, GOOD RUNNING CONDITION, ALL MAINTENANCE RECORDS AND TITLE AVAILABLE. ALWAYS GARAGED. ASKING PRICE: $5,000 NEGOTIABLE.
04/12/2017
Total views: 76
Price: $ 5,000.00